"Growing up vegetarian, I had never eaten butter chicken. The first time I tried it was in a restaurant here in Canada, and I could see why people loved it — chicken cooked with cream and ghee (Indian butter) — but I was turned off by the heaviness of the sauce. It inspired me to create my own healthy version of this popular Indian dish. My 14-year-old daughter cannot get enough of this, and every time her friends stay over, they say I can't believe it's not butter...chicken."

- Bal Arneson
Preparation Time: 30 minutes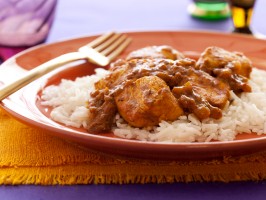 Servings: 4 servings
Nutrient values per serving
Energy: 234 Calories
Protein: 30 g
Fat: 5 g
Carbohydrates: 17 g
Sugar: 11 g
Fibre: 2 g
Sodium: 678 mg
Ingredients
Cooking oil spray
1 lb chicken breast cut in small pieces
2 medium red onions chopped
About an inch chopped ginger
6-7 garlic cloves
1.5 cups diced tomatoes
1 cup non-fat Greek yogurt
Salt to taste
Spices:
Garam masala 1/4 tsp
Turmeric ½ tsp
Coriander powder 1 tbsp
Ground cumin ½ tbsp
Chili powder ¼ tsp
Cardamom 6 small ones
Kasoori-methi 1 tbsp

Serving suggestion: Serve with roti or rice.
Method
1. Spray oil in non- stick pan and add onion. Sauté onion for 5-6 minutes, then add ginger and garlic. 
2. After about 2 minutes add tomatoes and continue cooking while stirring on medium heat.
3. Add all dry spices in a bowl and transfer them to this onion mixture in the pan.
4. Add water as necessary to avoid sticking to pan.
5. Once masala ready, turn off the pan and set aside.
6. In a separate pan, cook the chicken breasts till they are not pink.
7. While chicken is cooking, use a hand blender and blend the cooked masala.
8. Add the non fat yogurt to the blended masala and add all this to the chicken. 
9. Turn heat to low and stir for few minutes.

 
Recipe Source: Adapted from Bal's No-Butter Chicken by Bal Arneson