"Growing up vegetarian, I had never eaten butter chicken. The first time I tried it was in a restaurant here in Canada, and I could see why people loved it — chicken cooked with cream and ghee (Indian butter) — but I was turned off by the heaviness of the sauce. It inspired me to create my own healthy version of this popular Indian dish. My 14-year-old daughter cannot get enough of this, and every time her friends stay over, they request my no-butter chicken."

- Bal Arneson
Preparation Time: 30 minutes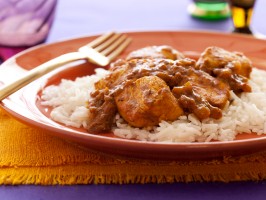 Servings: 4 servings
Nutrient values per serving
Energy: 242 Calories
Protein: 26 g
Fat: 10.5 g
Carbohydrates: 11 g
Sugar: 6 g
Fibre: 1 g
Sodium: 791 mg
Ingredients
2 tablespoons grapeseed oil
1 small red onion, chopped
2 tablespoons chopped fresh garlic
1 tablespoon chopped fresh ginger
2 tablespoons tomato paste
1 tablespoon brown sugar
1 tablespoon cumin seeds
1 tablespoon garam masala
1 teaspoon red chile flakes
1 teaspoon turmeric
1 teaspoon salt
1 pound chicken breasts, boneless and skinless, cut into cubes
1/4 cup low-fat yogurt
1/2 cup water

Serving suggestion: Serve with roti or rice.
Method
1. Put a large skillet over medium-high heat and add the oil.
2. When it starts to get hot, add the onion, garlic, and ginger and cook for 4 minutes, or until the onion is golden.
3. Add the tomato paste, brown sugar, cumin seeds, garam masala, red chile flakes, turmeric, and salt and cook for 2 minutes.
4. Add the chicken cubes and stir well to coat.
5. Add the yogurt and water and cook, stirring until the chicken is done, about 8 minutes.

Serve the chicken with roti or rice.
Recipe Source: Bal's No-Butter Chicken by Bal Arneson