Try this creamy rice pudding that was featured in the "Indian Picnic" episode of Bal Arneson's Spice Goddess.
Preparation Time: 22 minutes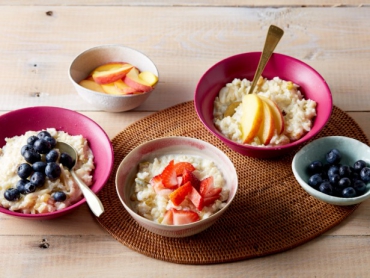 Servings: 4 servings
Nutrient values per serving
Energy: 301 Calories
Protein: 10 g
Fat: 11 g
Carbohydrates: 43 g
Sugar: 23 g
Fibre: 2.5 g
Sodium: 152 mg
Ingredients
1 1/2 cups cooked brown rice
1/4 cup slivered almonds
1/4 cup raisins
6 cardamom pods
5 whole cloves
Pinch salt
3 cups milk
2 tablespoons honey (Replace with stevia or another alternative)
Method
1. Put the brown rice, almonds, raisins, cardamom pods, whole cloves, salt, milk, and honey in a large saucepan and bring to a boil.
2.  Reduce the heat to low and simmer for 10 to 15 minutes, stirring occasionally, or until the milk is absorbed and the mixture has thickened and it resembles risotto.
3.  Serve the rice pudding hot or cold and top with seasonal fruit such as mango or berries.
Recipe Source: Bal's Rice Pudding by Bal Arneson