This recipe puts a spin on the traditional Indian dessert.  It was featured in the Holiday Menu episode of Bal Arneson's Spice Goddess.
Preparation Time: 23 minutes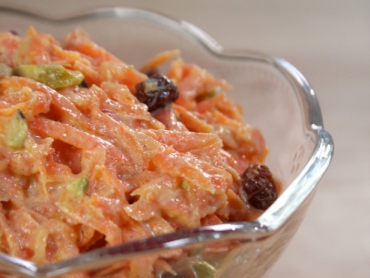 Servings: 4 servings
Nutrient values per serving
Energy: 232 Calories
Protein: 9 g
Fat: 7 g
Carbohydrates: 36 g
Sugar: 26 g
Fibre: 4 g
Sodium: 182 mg
Ingredients
1 pound carrots, peeled and grated
1/2 cup ricotta cheese
1/4 cup raisins
2 tablespoons chopped pistachios
1 teaspoon ground cardamom
Pinch ground cloves
2 cups milk
2 tablespoons honey (can be replaced with stevia or other alternative)
Method
1.  Put the carrots, cheese, raisins, pistachios, cardamom, cloves, milk, and honey into a large saucepan and bring to a boil over medium heat.
2.  Reduce the heat to low and simmer, stirring occasionally, until the carrots are soft and the mixture has thickened, about 15 to 18 minutes.
3.  Serve the carrots warm.
Recipe Source: Carrot Halva by Bal Arneson