Chapati (Roti) is a staple in most indian meals.  This simple recipe can be eaten alongside subji or dal to complete a traditional indian meal.
Preparation Time: 25 minutes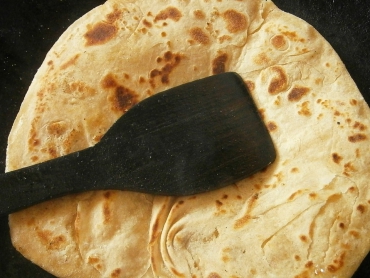 Servings: 6 rotis
Nutrient values per serving
Energy: 69 Calories
Protein: 3 g
Fat: 1 g
Carbohydrates: 15 g
Fibre: 2 g
Sodium: 90 mg
Ingredients
1 cup wheat flour
1⁄4 tsp salt
1⁄4 tsp oil
Method
1.  Place flour in a large mixing bowel. Add salt and oil. Mix well
2.  Gradually add ¼ cup warm water to mixture and knead with hands.
3.  Moisten the palms of your hand with a small amount of canola oil and work with dough to make it soft. Shape into 6 small balls.
4.  Dust each of the balls with flour. Roll out each ball into a thin, flat, circular shape, 4-5 inches in diameter.
5.  Heat a nonstick skillet or iron skillet over medium heat. Add a roti and cook both sides until slightly brown. Press the edge of the rotis lightly with a spatula until it puffs up. Remove and repeat for the remaining rotis. 
Recipe Source: Chapati (Roti) by Alamelu Vairavan