The all time classic paneer tikka masala, but with a calorie aware twist.  This recipe works great as a low calorie lunch or dinner.
Preparation Time: 25 minutes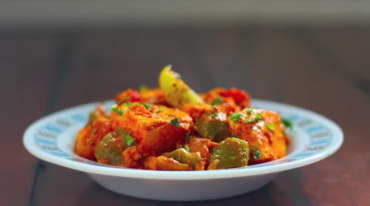 Servings: 6 servings
Nutrient values per serving
Energy: 213 Calories
Protein: 15 g
Fat: 6 g
Carbohydrates: 21 g
Fibre: 2 g
Sodium: 357 mg
Ingredients
Low-calorie Cooking Spray
1 Tbsp whole cumin seeds
2 onions, chopped
2 Tbsp garlic
2 Tbsp ginger
2 Tbsp tomato paste
1 Tbsp brown sugar
1 Tbsp garam masala
2 Tsp cayenne pepepr
1 Tsp turmeric
1/2 tsp salt
Extra firm tofu
1 cup plain greek yogurt
1/2 cup water
fresh cilantro
lemon wedges
Method
1. Spray the non-stick frying pan so it is coated.
2. Toast the cumin seeds for 1 minute.
3. Add chopped onions and sauté until softened.
4. Add ginger and garlic and soften for 2 minutes on minutes.
5. Add tomato paste and sauté for 1 minute, stirring frequently.
6. Add brown sugar, garam masala, cayenne pepper, turmeric, and salt, and sauté for 1 minute, stirring frequently to make sure the spices don't burn.
7. Add chopped extra firm tofu and sauté mixed for 1 minute.
8. Mix greek yogurt and water and add to pan, then mix well.
9. Cover and cook on low heat for 3 minutes.
10. If the sauce, is a little dry, and more water as needed and stir well.
11. Serve on top of brown jasmine rice, with a side of steamed vegetables.
12. Top with fresh cilantro and freshly squeezed lemon.