This is a recipe by Bal Arneson that was featured in the Indian Lunch Bag episode of Spice Goddess.
Preparation Time: 1 hour 5 min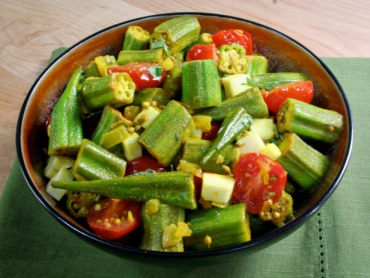 Servings: 4
Nutrient values per serving
Energy: 335 Calories
Protein: 18 g
Fat: 25 g
Carbohydrates: 13 g
Sugar: 5 g
Fibre: 5 g
Sodium: 305 mg
Ingredients
2 tablespoons grapeseed oil
1 small onion, chopped
1 tablespoon coriander seeds
1 teaspoon ground turmeric
1 teaspoon kosher salt
1/2 cup cherry tomatoes, halved
1 pound fresh okra, washed and cut into bite-sized pieces
1 cup prepared paneer* or homemade paneer, cut into large dice, recipe follows
1/4 cup loosely packed cilantro leaves
*Cook's Note: Paneer is a strained mixture of heated citrus and milk.
Method
1.  Heat the oil in a large skillet and then add the onion.
2.  Cook for 4 minutes, stirring regularly and then add the coriander, turmeric, and salt, to taste and continue to cook for 1 minute.
3.  Reduce the heat to medium, add the tomatoes and cook for 2 minutes.
4.  Stir in the okra and cook until it's tender, about 12 minutes.
5.  Stir in the paneer and cilantro and heat through.
Recipe Source: Spiced Okra by Bal Arneson