Even health enthusiasts will queue up for a second helping of this kebab that is made of chana dal, spinach, methi leaves and aromatic spices. Proper cooking techniques such as shallow-frying with minimal oil and a thoughtful combination of ingredients qualifies this North Indian starter for a health book!
Preparation Time: 20 Minutes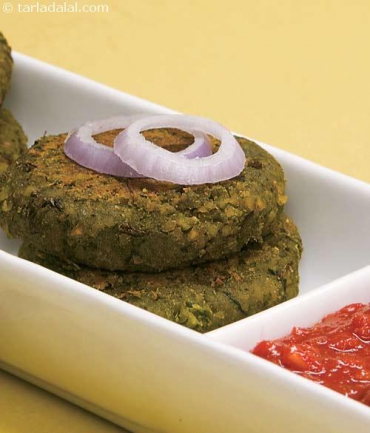 Servings: 8 Kebabs
Nutrient values per serving
Energy: 82 Calories
Protein: 4.2 g
Fat: 2.5 g
Carbohydrates: 10.7 g
Fibre: 2.9 g
Iron: 1.4 mg
Ingredients
For The Chana Dal Mixture:
1 1/2 cups soaked and cooked chana dal (split bengal gram)
1/2 tsp turmeric powder (haldi)
1 1/2 tsp ginger-garlic (adrak-lehsun) paste
1 tsp chilli powder
salt to taste

Other Ingredients:
2 1/2 tsp oil for greasing and cooking
1 tsp cumin seeds (jeera)
1 1/2 cups thick spinach purée
1 1/2 tbsp dried fenugreek leaves (kasuri methi)
2 tsp garam masala
3 tbsp cornflour
1/2 tsp freshly ground black pepper (kalimirch)
salt to taste

For Serving:
garlic chutney
Method
For the chana dal mixture
Combine all the ingredients in a broad non-stick pan, mix well and cook on a medium flame for 3 to 4 minutes, while stirring occasionally.
Cool slightly and blend in a mixer to a coarse mixture. Keep aside.

How to proceed
Heat 1 tsp of oil in a broad non-stick pan and add the cumin seeds.
When the seeds crackle, add the spinach purée and cook on a slow flame, while stirring continuously, for 1 to 2 minutes or till the water evaporates.
Add all the remaining ingredients along with the chana dal mixture and salt, mix well and cook on a slow flame for another 2 to 3 minutes, while stirring continuously. Sprinkle a little water if the mixture becomes very dry.
Cool slightly and divide the mixture into 8 equal portions.
Roll out each portion into a 67 mm. (2½") thin flat round kebab.
Heat a non- stick tava (griddle) and grease it using ¼ tsp of oil and cook each kebab on a slow flame, using ? tsp of oil, till they turn golden brown in colour from both the sides.
Serve hot with garlic chutney.
Recipe Source: Spinach and Chana Kebab by Tarla Dalal